Did you know the original watercolor for the World War One "Gee" recruiting posters was given to TEXAS in 1917 and hung in the Wardroom until the summer of 1924? I sure didn't until January 2016 when I stumbled upon this long forgotten bit of BB35 history.
When America entered World War One in April 1917, public sentiment was high, including Howard Christy. Christy was a well established illustrator and made several works from which recruiting posters were made, including the "Gee" poster for the navy.
In January 2016, I was going through the New York Times index for Battleship Texas articles when I came up a 1981 article that the model for the poster had died. Struck me as odd being in a TEXAS search and curiosity led me to click on the link to the article. When I saw the reference of the work being given to BB35 in 1917, about fell out of my chair. The article went on to say the original work was transferred sometime later to the museum of the US Naval Academy.
I emailed Mr Larry Johnson, Assistant Register at the museum if he could confirm the work is still at his museum, the information in the Times article and provide a picture. Mr Johnson confirmed with documents in their file the original watercolor work was given to BB35 in 1917 and hung in the Wardroom. He also provided the transfer was in the summer of 1924 when the ship was at Annapolis, Maryland in conjunction with the summer midshipmen cruise. In the below photo taken by Mr Johnson of the original work, you can see Christy's handwritten notation "for the TEXAS"
Even after all my years of BB35 activity, I still get excited by such finds. Wonder what my next discovery will be?
Image Courtesy of U.S. Naval Academy Museum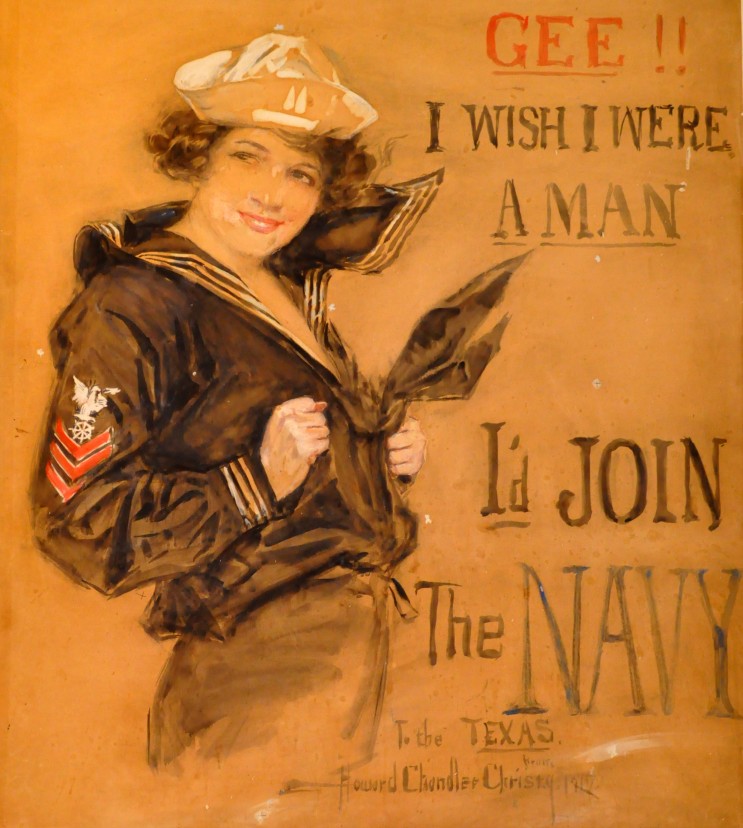 Started 11 May 1999 by Chuck Moore, FTV (1st Texas Volunteers) a Battleship Texas volunteer group - Donate Your Time And Support The Battleship Texas